Pergolas have become a must-have for many outdoor spaces. But why? They serve both practical and aesthetic purposes. For example, they provide shade and shelter, making them perfect for lounging or entertaining in the garden. In addition, their open design allows for a cool breeze while offering protection from direct sunlight. Pergolas also bring elegance and sophistication to any outdoor area.
Plus, they offer privacy. Plants or vines around the structure make a natural barrier that blocks out prying eyes. Plus, pergolas are perfect for climbing plants, like roses and ivy, making your garden even more beautiful. And, you can customize the structure to fit your style and theme.
Take Sarah, for instance. A passionate gardener, Sarah wanted a shaded spot to enjoy her morning coffee in the summer heat. After seeing a friend's pergola, Sarah decided to build one herself. She worked hard to make her dream come true. Now, she enjoys peaceful mornings in the cool shade of her pergola, surrounded by lush greenery.
What is a pergola?
A pergola is an awesome and useful outdoor structure that adds beauty to a garden or patio. It usually has vertical posts and a roof of cross beams, giving some shade and air flow. You can make it with different materials, such as wood, metal or vinyl, giving a lot of design ideas.
These special structures have many uses in a garden or outdoor area. Firstly, they give a place to rest and have fun. By adding comfortable chairs and decor pieces like hanging plants or fairy lights, pergolas make a wonderful atmosphere for relaxing and hanging out with friends.
Secondly, they provide shade from the sun but still let natural light through. This makes them perfect for activities like dining or reading without the sun's harshness. The latticed roof also gives some protection from rain, so you can keep having fun outdoors whatever the weather.
Furthermore, pergolas are very adjustable. You can add climbing plants like ivy or wisteria, making a lovely green canopy. Plus, you can add curtains or blinds to the sides for more privacy and wind protection.
You can make the most of your pergola with extra features. Built-in benches or tables use the space and are helpful for gatherings or meals. Also, you can fit retractable awnings or shades that you can change based on the weather, making sure you're always comfy.
Purpose of a pergola
To understand the purpose of a pergola, let's explore its key functions. Providing shade and protection, adding aesthetic appeal to outdoor spaces, and creating a defined space for outdoor activities are all ways in which pergolas can enhance your outdoor living experience.
Providing shade and protection
A pergola is a great addition to any outdoor space. It grants shade and protection from the sun's harmful UV rays, as well as shelter from sudden rain or gusty winds.
For Shade: A pergola blocks out direct sunlight, making a comfy spot to lounge, dine, or entertain guests – even on hot days.
For Privacy: Latticed panels or curtains can give you a secluded area for intimate moments or personal time.
Protection from Elements: The sturdy structure of a pergola offers protection regardless of the weather.
Protection for Furniture: A pergola shields your furniture from direct sunlight, keeping it looking fresh and vibrant.
Beauty: A well-designed pergola adds charm and elegance to an outdoor space, becoming a focal point.
Plus, certain materials used to make pergolas are resistant to rotting and insects, meaning less maintenance is required.
I recently visited a friend's house that had a beautiful pergola in their backyard. Sitting beneath it on a hot summer day, I was surprised at how cool it was. The soft, dappled light filtering through created a tranquil atmosphere – perfect for relaxing and drinking a refreshing beverage. It was proof of the pergola's capability to provide shade, protection, and a magical touch to any outdoor area.
Adding aesthetic appeal to outdoor spaces
A pergola can be a magnificent addition to your outdoor area! It lets in natural light, creating a warm and inviting atmosphere. Plus, its architectural beauty and versatility make it an ideal focal point.
Also, a pergola provides practical benefits. It offers shade from the sun, making it perfect for relaxation and entertaining on hot days. Plus, its sturdy structure protects outdoor furniture and other items from bad weather.
You can find pergolas in various designs and materials, so you can customize your outdoor space to your personal preferences. Whether modern, minimalist, rustic, or traditional, there's a pergola style that complements every setting.
Take advantage of your outdoor area and make it even more beautiful with a pergola. Enjoy its timeless charm and versatility as you relax and entertain in your outdoor oasis. Don't let this opportunity pass you by – transform your outdoor space today!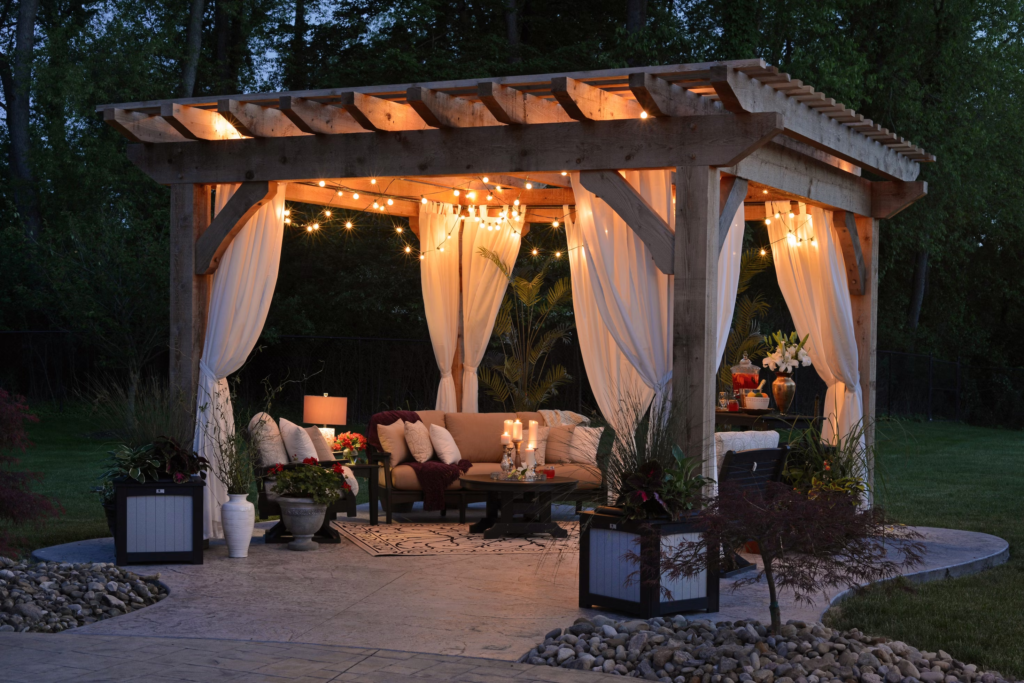 Creating a defined space for outdoor activities
Relax and enjoy nature in a tranquil pergola! It's the perfect spot for shade and protection from the elements.
Invite guests over for a gathering – the open design allows for conversation and a designated area for dining or relaxation.
Transform your pergola to an outdoor dining area for a unique culinary experience. From brunch to dinner parties, this space adds elegance to any gathering.
Create a vibrant garden oasis under your pergola. Plant climbing vines or hang flower baskets to adorn the structure.
Engage in physical activities like yoga, meditation, or set up exercise equipment in your designated space. With a pergola, you can focus on your workouts without distractions.
Pergolas also offer architectural appeal with their stylish designs and decorative features. Enhance both the functionality and aesthetic appeal of your garden by adding one today!
Pro Tip: For added privacy and protection from insects, incorporate detachable screens or curtains into your pergola design while still keeping an open-air feel.
How to build a pergola
To build a pergola efficiently, start with selecting the right location. Then, choose the materials wisely. Next, measure and mark the area accurately. After that, focus on building the pergola structure itself. Lastly, enhance it by adding roofing or shade elements.
Selecting the right location
Opt for a spot that is sunny and easy to access from your home.

Check nearby structures or trees that may cause shadows.

Also, consider adjoining properties or public spaces that can affect privacy.

Orient the pergola to take advantage of scenic views.

For more tips, consult with a professional landscape designer or architect.

Remember, pergolas began in ancient Egypt as shade structures.

By choosing the perfect location, you're adding a timeless feature to your outdoor living space.
Choosing the materials
The material used for your pergola is essential for its stability and beauty. Let us go over the options available and their particular features.
MATERIALS:
Wood: Natural look, Durable, Customizable, Versatile
Vinyl: Low maintenance, Rot-resistant, Easy to clean, UV protected
Metal: Sleek design, Sturdy, Long-lasting, Modern finish
Fiberglass: Lightweight, Weather-proof, Various design options, Minimal care
Think of your pergola project's special needs when selecting the material. Wood has a natural, timeless look. Vinyl is low-maintenance and rot-proof. Metal gives a sleek and modern effect, while fiberglass is light and weather-resistant.
It is interesting that pergolas date back to ancient Egyptian times. These outdoor structures were first built to give shade in gardens. Over time, pergolas have changed in design, purpose, and materials.
Now, you can make an educated decision concerning your pergola's construction. Whether you choose wood's classic charm or metal/fiberglass's modern appeal, bear in mind both style and durability.
Measuring and marking the area
Accurately setting up a pergola? It's essential! Measure and mark the designated site first. That way, it'll fit perfectly with precision and serve its purpose. Here's what to do:
Step 1: Use a tape measure to find the length and width of the area you're putting the pergola in. Note any obstacles or already-present structures that may affect it.
Step 2: Record the measurements and mark the corners with stakes or markers. This gives a visual reference for where the pergola will go.
Step 3: Connect the corner markers with a chalk line or string. This will act as a guide for construction and make sure it's properly aligned.
Plus, factor in sunlight exposure, prevailing winds, and desired views when positioning the pergola. These details can give your outdoor space a boost in aesthetics and enjoyment.
Create an awesome outdoor oasis with a great pergola. Measure and mark accurately before starting the project. Transform your outdoor space into a private retreat that fuses style and function!
Building the pergola structure
Choose a spot for the pergola – think sunlight, other structures, and views.
Set out the size with stakes and string.
Make sure the corners are square by measuring diagonally.
Dig holes for the posts.
Gravel in the bottom of each hole.
Secure posts with concrete mix.
Attach beams and crossbeams, with brackets or screws.
Put up rafters.
Decorate with lattice or plants.
Treat wood to preserve it.
Check permits for local regulations.
Adding roofing or shade elements
To liven up your pergola, why not try a retractable canopy or sail? This allows adjustable shade during the day. Or, if you're feeling rustic, a thatched roof or wooden slats can give a natural look. For a modern twist, try glass or polycarbonate sheets.
Choose materials that are weather-resistant and require minimal maintenance. Gutter systems are also a great addition to redirect rainwater away.
My friend Sarah went with a UV-resistant fabric canopy. She loved the ability to control the shade, and the string lights brought a magical atmosphere for evenings spent outside. The perfect spot for friends and family!
Maintaining a pergola
To maintain a pergola effectively, you need to focus on cleaning and preserving the wood or materials, inspecting for damage or wear, and making necessary repairs or replacements. These tasks ensure the longevity and functionality of your pergola, allowing you to enjoy its benefits for years to come.
Cleaning and preserving the wood or materials
Clear away leaves, twigs, and other debris from your pergola with a broom or leaf blower.
Then, mix a mild detergent and warm water in a bucket.
Dip a brush or sponge in the solution and scrub the pergola's surfaces.
Rinse it off with a garden hose or pressure washer on low settings.
Finally, apply a quality wood sealer or protectant to avoid moisture damage and preserve its beauty.
In addition, inspect for damage regularly. Apply a UV-resistant paint or stain for color and sun protection. Trim back plants or vines near your pergola to avoid moisture buildup and potential damage. With these tips, your pergola will remain in great condition and enhance your outdoor space.
Inspecting for damage or wear
Examining your pergola for damage or wear regularly is essential to guarantee its lifespan and safety. By spotting any issues quickly, you can avoid further damage and costly repairs in the future. Here is a 6-step guide to assess your pergola effectively:
Look over the whole structure. Look for signs of sagging, leaning or cracks in the beams and posts.
Check the roof panels or slats for any loose or missing pieces. Make sure they are firmly attached and not damaged by the weather.
Inspect the connections and hardware, e.g. screws, bolts, and brackets. Tighten any loose fittings and switch any rusted or damaged hardware.
Check the wood for rotting or decay. Pay attention to places where water may collect, such as corners and joints.
Look for pest infestations or termite damage that could weaken the pergola's structure. Treat any affected areas right away.
Lastly, test the stability of your pergola by carefully shaking it from different angles. If you see excessive movement or instability, more support might be needed.
On top of these steps, it's important to maintain and clean your pergola often to stretch its lifespan. This includes taking out debris from roof panels, cleaning mold or mildew with suitable solutions, and applying protective finishes like stain or sealant.
By examining your pergola for damage or wear on a regular basis and following these tips, you can ensure it stays an attractive and safe outdoor space for years to come. Your diligence will be worth it when you enjoy many peaceful moments under its sheltering canopy.
Making necessary repairs or replacements
Maintaining a pergola is essential. Here are three steps for keeping it in great condition:
Have a look around. Inspect for signs of wear like cracked wood, loose screws or bolts, and broken roofing materials.
Make the repairs or replacements. This may include replacing rotten wood, tightening bolts, and fixing roofing materials.
Clean and maintain the pergola. Remove debris like leaves or branches. Clean with mild soap and water.
Different types of pergolas may need specific repair techniques or materials. It's a good idea to check with a professional if you're not sure.
For effective maintenance:
Apply sealant or stain to wooden pergolas every few years.
Trim nearby trees or plants that may cause shade or falling branches.
Check for pests like termites or ants.
By following these steps, you can ensure your pergola lasts and enjoy a beautiful outdoor space for years to come.
Creative ways to use a pergola
To make the most of your pergola, explore creative ways to utilize it. In order to enhance your outdoor space, consider using your pergola as an outdoor dining area, an outdoor living room or lounge area, and even as a garden feature. These sub-sections will provide practical solutions for maximizing the functionality and visual appeal of your pergola.
Outdoor dining area
Dream of a captivating outdoor dining area? Let's start!
Get a pergola and festoon lights to make a warm glow.
For the table, choose weather-resistant materials such as teak or aluminium.
Also think of comfy chairs.
Add a shade, like retractable fabric or bamboo blinds, for daytime gatherings.
Decorate the walls with climbing plants and hanging baskets filled with flowers.
Personalise the look with unique tablecloths, cushions and centrepieces like vintage lanterns or potted herbs.
Find durable yet elegant tableware and glassware.
Install an outdoor heater or fire pit for year-round usability and a cozy ambiance.
Now, your outdoor dining area is ready for friends and family to share delicious meals and make lasting memories.
Outdoor living room or lounge area
Outdoor living is the way to go to make your home more comfy and stylish! Whether you have a big backyard or a small patio, making an outdoor living room or lounge area is great for gatherings with family and friends, as well as a serene spot for chilling.
Turn your pergola into a comfy and lavish lounge with cushy sofas, ottomans, and rug. Brighten the place with colourful cushions and pillows.
Dine alfresco by setting a dining table and chairs under your pergola. This will not only give you shade but also let you enjoy meals outside, while still being safe from the elements.
Make the pergola look more exquisite with outdoor curtains. Not only will they give you privacy, but also an air of luxury.
Put up fairy lights or lanterns to give it a pleasant atmosphere during the night.
To make your outdoor living room or lounge area really special, add features like a fire pit, water fountain, or an outdoor bar area. This will make the pergola a cool spot that can be used the whole year!
Did you know that pergolas have been around for thousands of years? The ancient Egyptians used them in their gardens to create paths with climbing plants. (Source: History.com)
Creating a garden feature
A pergola is the perfect way to make your garden stand out. Here are some creative ideas to use it:
Vertical Gardens: Plant climbers or hang baskets on your pergola for more depth and texture.
Outdoor Dining: Set up a table and chairs and add fairy lights for an alfresco dining experience.
Relaxation Zone: Make it a serene spot with comfy seating, cushions, and soft lighting.
Natural Archway: Use it as an entrance to another part of your garden or train fragrant flowers along its beams.
And don't forget unique touches like bird feeders, wind chimes, or an outdoor shower! Your pergola will make your garden unforgettable. Imagine a couple enjoying their evenings under a gorgeous pergola, with jasmine scent and twinkling lights. Create your own slice of paradise with a pergola and let your imagination be your guide.
Conclusion
A pergola is the perfect way to bring elegance to a garden or patio. It offers shade and sophistication, making it an ideal spot for relaxation and entertaining. Plus, its open-air structure provides a sense of connection with nature.
Pergolas are incredibly versatile. You can customize them to fit your own personal style. Choose from traditional wooden designs or go modern and minimalistic. Or, add some extra charm by decorating with climbing plants like vines or roses.
My friend recently got a pergola, and it's completely transformed his backyard. He now has a cozy area for barbecues and family gatherings, while still enjoying the fresh air. Every visitor admires this new focal point of his garden.
Frequently Asked Questions
FAQs for the topic 'What is the point of a pergola?'
Q: What is a pergola?
A: A pergola is an outdoor structure typically consisting of vertical posts or columns that support crossbeams and an open lattice roof. It provides a shaded area and can be used to enhance the aesthetics of a garden or outdoor space.
Q: What is the purpose of a pergola?
A: The primary purpose of a pergola is to provide shade and shelter from the sun. It creates a comfortable outdoor space where you can relax, entertain guests, or enjoy meals. Pergolas also add architectural interest and can serve as a support structure for climbing plants.
Q: Can a pergola be used for waterproofing?
A: Pergolas are not designed to provide complete waterproofing. While they offer some protection from light rain and provide shade, the open lattice roof allows water to seep through. If you require full waterproofing, you can opt for a pergola with a retractable canopy or add a waterproof cover.
Q: How can a pergola improve my outdoor living space?
A: A pergola can greatly enhance your outdoor living space by creating a defined area for relaxation and entertainment. It adds a touch of elegance to your garden or patio and allows you to enjoy the outdoors while staying protected from the sun. Additionally, it can increase the value of your property.
Q: Are there any maintenance requirements for a pergola?
A: Pergolas generally require minimal maintenance. Regular cleaning of the structure and removing debris from the roof will help prolong its lifespan. Depending on the material, occasional staining or sealing might be necessary. Wooden pergolas may require more maintenance, such as painting and sealing, to prevent rot or decay.
Q: Can I install a pergola on my own?
A: While it is possible to install a pergola on your own, it can be a complex task. It often requires precise measurements, knowledge of construction principles, and the use of power tools. It is recommended to seek professional assistance or hire experienced contractors for proper installation.
{
"@context": "https://schema.org",
"@type": "FAQPage",
"mainEntity": [
{
"@type": "Question",
"name": "What is a pergola?",
"acceptedAnswer": {
"@type": "Answer",
"text": "A pergola is an outdoor structure typically consisting of vertical posts or columns that support crossbeams and an open lattice roof. It provides a shaded area and can be used to enhance the aesthetics of a garden or outdoor space."
}
},
{
"@type": "Question",
"name": "What is the purpose of a pergola?",
"acceptedAnswer": {
"@type": "Answer",
"text": "The primary purpose of a pergola is to provide shade and shelter from the sun. It creates a comfortable outdoor space where you can relax, entertain guests, or enjoy meals. Pergolas also add architectural interest and can serve as a support structure for climbing plants."
}
},
{
"@type": "Question",
"name": "Can a pergola be used for waterproofing?",
"acceptedAnswer": {
"@type": "Answer",
"text": "Pergolas are not designed to provide complete waterproofing. While they offer some protection from light rain and provide shade, the open lattice roof allows water to seep through. If you require full waterproofing, you can opt for a pergola with a retractable canopy or add a waterproof cover."
}
},
{
"@type": "Question",
"name": "How can a pergola improve my outdoor living space?",
"acceptedAnswer": {
"@type": "Answer",
"text": "A pergola can greatly enhance your outdoor living space by creating a defined area for relaxation and entertainment. It adds a touch of elegance to your garden or patio and allows you to enjoy the outdoors while staying protected from the sun. Additionally, it can increase the value of your property."
}
},
{
"@type": "Question",
"name": "Are there any maintenance requirements for a pergola?",
"acceptedAnswer": {
"@type": "Answer",
"text": "Pergolas generally require minimal maintenance. Regular cleaning of the structure and removing debris from the roof will help prolong its lifespan. Depending on the material, occasional staining or sealing might be necessary. Wooden pergolas may require more maintenance, such as painting and sealing, to prevent rot or decay."
}
},
{
"@type": "Question",
"name": "Can I install a pergola on my own?",
"acceptedAnswer": {
"@type": "Answer",
"text": "While it is possible to install a pergola on your own, it can be a complex task. It often requires precise measurements, knowledge of construction principles, and the use of power tools. It is recommended to seek professional assistance or hire experienced contractors for proper installation."
}
}
]
}