Constructing a pergola can be a thrilling task to improve your outdoor living space. Before beginning, it's critical to figure out if you need building authorization for the pergola. If you're questioning the regulations and rules relating to pergolas, keep reading.
Location and size are important aspects when determining if you require permission. In some places, pergolas may not need specific authorization if they're small and free-standing. Check with your local authority or planning department to make sure you abide by the laws in your area.
In certain places, simple installations may not need authorization, yet others may require homeowners to obtain planning permission or follow particular instructions. If your property is in a conservation area or governed by an HOA, you might need consent for the pergola.
To avoid problems in the future, it's best not to construct without the right permissions. Breaking building regulations can result in penalties and even the removal of the structure. Take time to research and understand the requirements before beginning your pergola project.
Getting the correct permissions shows respect for regulations and enhances the beauty of your community. Don't let fear stop you; get informed and make sure all of your landscaping steps obey legal requirements!
Understanding Pergolas
Pergolas, a common feature in outdoor areas, often puzzle people – do they need building permission? To answer this, it is important to understand the regulations and rules that control pergola construction.
Let's take a look at the vital elements related to pergolas:
Understanding Pergolas
Building Regulations
Applicable
Planning Permission
Usually needed
Size Restrictions
Dependent on area
Location Considerations
Close to boundaries
Material Selection
Can affect regulations
Building regulations usually concern pergolas, as they are seen as permanent structures. It depends on your area and pergola size, but planning permission might also be necessary. Note that these regulations change, so consult your local government or a professional before you start building.
Size restrictions can differ based on your location. For example, there may be limits on height or total pergola coverage. Also, when constructing a pergola near property boundaries, location is a factor. This is to keep harmony in the environment and prevent conflicts with neighbors.
Moreover, material selection may shape the regulations for making a pergola. Different materials could have varying degrees of durability or visual impact that can influence overall guidelines. For instance, timber or metal may need various approvals and maintenance concerns.
Pro Tip: Understand all relevant building regulations and involve professionals if needed. That way, you can make use of your beautiful outdoor space without legal problems.
Building Permits and Regulations
Obtaining a permit is essential for any pergola project. Documents such as site plans, construction plans, and property owner consent must be included. The fees vary depending on the location and size of the pergola. Inspections must be passed at different stages of construction.
Tony's experience is a prime example of why permits are important. Even though his project seemed minor, the inspection revealed underlying electrical cables that made the chosen location unsafe. Tony was able to make necessary adjustments and avoid potential hazards thanks to the permit process.
Building Permits and Regulations are important to both homeowners and contractors. Compliance with these regulations not only ensures safety but also prevents future issues related to property ownership. If you plan to build a pergola, make sure to get the right permit and fulfill all requirements before you start.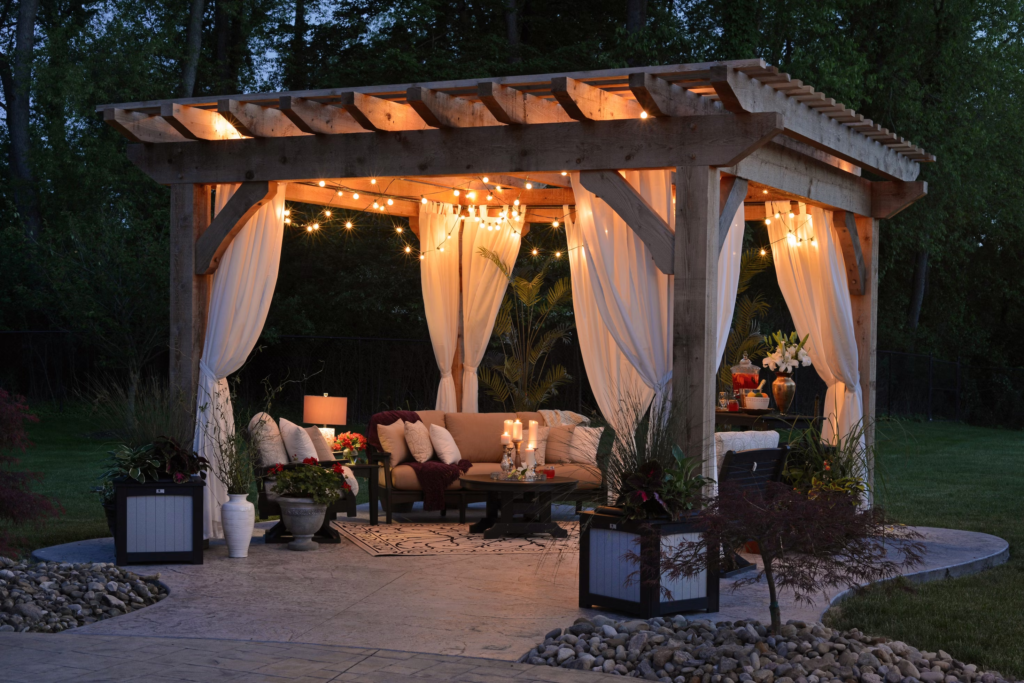 Do You Need Building Permission for a Pergola?
Do you need permission to build a pergola? It depends. Factors like size, location, and zoning regulations all play a role. It's essential to talk to your local planning department. Consider property boundaries and impact on neighboring properties too. Check if there are height restrictions or setback requirements you must follow. Get the required permission and avoid any legal issues.
But, many small garden structures do not need planning permission, if certain conditions are met. Ask a qualified architect or builder about local regulations. They'll help you figure out what you need and ensure compliance.
Here's an interesting fact: Homebuilding & Renovating magazine notes that you must get planning permission for a pergola if it covers more than half of your garden area.
Steps to Obtain Building Permission
To get permission to build a pergola, certain steps must be taken. Adhering to these will guarantee you meet the local regulations. Keeping to these guidelines gives you the confidence to move ahead with your project.
Determine if planning permission is needed:

Ask your nearby planning agency if you need approval.
If so, submit an application with the correct plans and documents.
Make sure to include precise measurements and specs to increase the chances of success.

Prepare supporting evidence:

Collect the relevant documents, such as site plans, elevations, and a description of the proposed pergola.
Include photos or visuals of the area where the structure will be built.
Show how the pergola will fit in with existing structures and the environment.

Submit your application:

Complete all forms from the local authority.
Pay any related fees.
Keep copies of all submitted materials for your records.

Wait for a decision:

The local authority will assess your application based on various factors, e.g. size, location, and effect on neighbouring properties.
It may take several weeks or even months to get an answer.
If approved, you can start building as per your application.
Bear in mind that local rules may vary. It's thus essential to know them before beginning any construction.
For a successful process, consider consulting experts with experience in obtaining building permission. They can help you and give advice on fulfilling the regulations. Moreover, talking to your neighbours during the procedure may reduce possible disagreements and conflicts.
By following these steps and asking for advice when necessary, you can go through the building permission process for your pergola without any issues. This will not only ensure legal compliance but also improve the look of your outdoor space.
Consequences of Building Without Permission
Building without authorization is a risky move. It can have serious repercussions like legal action, hefty fines, and even require the structure to be taken down. Also, it might lead to reduced property value, insurance issues, and clashes with neighbors or local bodies.
It's not just a legal issue either – safety is also a factor. Building legislation exists to guarantee safety standards are met. So, make sure you check with local planning departments and get the necessary permission before beginning any structure.
John's story is a good example of what could happen if you ignore building regulations. He decided to construct a pergola in his garden without asking the local council for approval. Unfortunately, by the time the council noticed, it was too late.
John had to pay a huge fine for not getting a permit and for his troubles, he had to take down the pergola at his own expense.
This serves as a lesson that it's key to get the right permissions in place to avoid any costly outcomes that may arise from building without authorization. Stick to the rules and always get the required approvals before starting a construction project.
Conclusion
Do you need permission to build a pergola? It depends on the height and size of the structure. If it is small, you might not need permission. But check with your local planning authority since rules vary.
Permission is normally required if the pergola is bigger than allowed, or a permanent structure. This is especially true if it's close to your house or in a conservation area.
Also, there may be restrictions on materials and impact on other properties. Make sure your pergola follows building codes and zoning regulations, or you could face legal issues.
Let me tell you a cautionary tale. A homeowner built a large pergola without permission. The structure was too tall, and violated setback rules. They were fined and had to take down the entire pergola. Moral of the story: get planning permission!
Frequently Asked Questions
1. Do you need building permission for a pergola?
Yes, in most cases, you will need to obtain building permission before constructing a pergola. The rules and regulations regarding building permission may vary depending on your location, so it's essential to check with your local authorities or planning department.
2. Are there any exceptions where building permission is not required?
Some jurisdictions may have specific exemptions for small pergolas that meet certain criteria. For example, if your pergola is below a certain size, does not have a solid roof, and meets setback requirements, you might be exempt from obtaining building permission. However, it's best to consult with your local planning department to confirm if any exceptions apply.
3. How can I apply for building permission for my pergola?
To apply for building permission, you will typically need to submit an application to your local planning department. The application will require details such as the dimensions and location of the pergola, construction materials, and any relevant drawings or plans. You may also need to pay a fee along with your application.
4. What factors do authorities consider when granting building permission for a pergola?
Authorities consider various factors when granting building permission, including the size and height of the pergola, its proximity to property boundaries, its visual impact on the surrounding area, and compliance with local building codes. They may also consider factors like the structural integrity, safety, and environmental impact of the pergola.
5. What could happen if I construct a pergola without obtaining building permission?
If you construct a pergola without obtaining the required building permission, you may face legal consequences and enforcement actions. Authorities may issue fines, require you to dismantle or modify the structure, or even take legal action to ensure compliance. It's crucial to follow the necessary procedures to avoid any potential complications.
6. Can I seek professional assistance to help with the building permission process?
Absolutely! Seeking professional assistance from architects, builders, or planning consultants can be immensely helpful when dealing with the building permission process. They have the expertise and knowledge to guide you through the application process, ensure compliance with regulations, and increase the chances of obtaining the necessary permission for your pergola.
{
"@context": "https://schema.org",
"@type": "FAQPage",
"mainEntity": [
{
"@type": "Question",
"name": "Do you need building permission for a pergola?",
"acceptedAnswer": {
"@type": "Answer",
"text": "Yes, in most cases, you will need to obtain building permission before constructing a pergola."
}
},
{
"@type": "Question",
"name": "Are there any exceptions where building permission is not required?",
"acceptedAnswer": {
"@type": "Answer",
"text": "Some jurisdictions may have specific exemptions for small pergolas that meet certain criteria."
}
},
{
"@type": "Question",
"name": "How can I apply for building permission for my pergola?",
"acceptedAnswer": {
"@type": "Answer",
"text": "To apply for building permission, you will typically need to submit an application to your local planning department."
}
},
{
"@type": "Question",
"name": "What factors do authorities consider when granting building permission for a pergola?",
"acceptedAnswer": {
"@type": "Answer",
"text": "Authorities consider various factors when granting building permission, including the size and height of the pergola, its proximity to property boundaries, its visual impact on the surrounding area, and compliance with local building codes."
}
},
{
"@type": "Question",
"name": "What could happen if I construct a pergola without obtaining building permission?",
"acceptedAnswer": {
"@type": "Answer",
"text": "If you construct a pergola without obtaining the required building permission, you may face legal consequences and enforcement actions."
}
},
{
"@type": "Question",
"name": "Can I seek professional assistance to help with the building permission process?",
"acceptedAnswer": {
"@type": "Answer",
"text": "Absolutely! Seeking professional assistance from architects, builders, or planning consultants can be immensely helpful when dealing with the building permission process."
}
}
]
}