There's more to a garden than just the plants in it; it's an extension of your house and a place to make memories that will last a lifetime. The pergola will improve your outdoor area aesthetically and practically. These beautiful and functional garden features have been a staple for ages.
The pergola is an exquisite, timeless outdoor feature suitable for residential and commercial spaces. A pergola provides an amazing and cosy ambience, offers privacy and shelter, delineates dining spaces, and adds a charming touch to gardens- a great way to transform your outdoor space!
As the trend of spending quality time outdoors in opulent surroundings continues to rise, a pergola fits the bill perfectly. Consider installing a bespoke, resilient, contemporary pergola to enhance your landscape, infuse a sense of luxury, or seamlessly extend your home's living space. Explore our recommendations for how this welcoming structure serves as an ideal backyard concept, elevating the pleasure of outdoor living.
Here are the 7 benefits of a pergola that will make you install a pergola!
Outdoor Dining and Outdoor Entertainment
A pergola is beautiful and functional as an outdoor living space.
Don't limit your entertaining options to a backyard barbecue or pool party because there is nowhere for your guests to sit out of the sun. A custom-made pergola provides shade and protection and a designated space for socializing, eating, and lounging.

Do you get a kick by showing off your new, improved yard, house, and surroundings? A new covered pergola is a great way to draw attention to the attractive features in your backyard. Encourage regular get-togethers so everyone can mingle freely under one roof.
Exciting Outdoor Space and Lounge
The addition of deck chairs and umbrellas to the sides of the pool makes for a pleasant area to relax in the sun and keep an eye on the swimmers. However, a pergola on the deck is a great addition that protects poolgoers from the elements.
Create a bar, seating, and dining area beneath a pergola patio to avoid using the pool house. Create a relaxing outdoor retreat by the water by hanging curtains, lights, lanterns, or plants. A DIY pergola design may turn your outdoor hot tub into a romantic hideaway from the world.
Beautiful Garden Space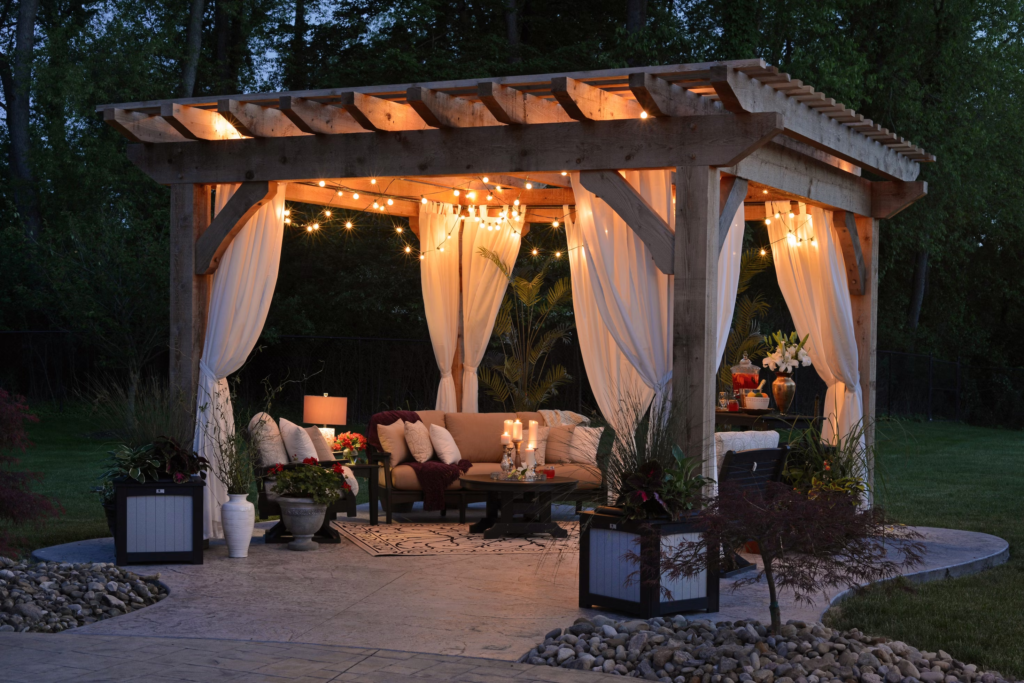 Historical sources and romantic paintings show that pergolas and gardens have a long history. Keep the tradition alive by creating a lovely outside space. Install a modest to medium-sized wooden pergola or aluminium pergola to cover curving walks. To add a touch of rustic appeal, store gardening tools on a storage bench or maintain a work table for pots and seedlings under the pergola.
Allow enough space for climbing vines, roses, and other lovely plants to cover the sides and tops of a pergola canopy, offering shade and privacy, and creating a beautiful outdoor space. Hang potted plants and ornamental lighting around the edges of a pergola at twilight to create a wonderful landscape. Create an outdoor refuge for relaxing, reading, looking, and appreciating nature.
Add Value to Your Home
Open-concept, contemporary dwellings that blur the boundaries between indoors and outside are a breath of fresh air. Add a pergola to the outside of your home next to a door that leads to the backyard, and you'll be carrying out the design's logical progression. The natural world beyond your front door is a source of beauty and intrigue that should not be ignored if you want to live properly.
Cover a flat, open patio or sidewalk with a pergola for a touch of visual appeal. Relax with friends and family under the shade of a pergola while taking in the beautiful scenery and listening to the local birds. Consider pergola designs that work well with the furnishings you intend to place underneath. Pergola covers come in a wide variety of styles and colours, allowing you to match them to the decor of your home easily.
Deck Worthy
Is enjoying your outdoor space your favourite thing to do? Then you are on the right page!
If you have a deck, you may not want to fully cover it, reducing any visual breathing room to view the sky unobstructed. Adding a pergola is a solution that fits most budgets and deck designs. Install a custom pergola on the deck that is lightweight and strong and covers specific areas of the deck for designated uses.

Opt for a pergola with a retractable shade cover in a prominent corner space or odd section and place seating underneath. Create a place for a swing, barbeque grill, or lounge under a grand pergola. A deck only partially covered with a pergola in certain areas creates visual drama and space to shade from the sun and rain.
Hidden Getaway
Getting the benefits of being outside without having to go out of your way. A smaller pergola is welcome on your property when you need some solitude and a peaceful place to connect with nature. Under a 6-foot-wide pergola canopy, you may create a tranquil, quiet area to lay, watch the rain, read, or sip a drink.
To enhance your outdoor living experience, consider adding lighting, hanging plants, and curtains. The pergola helps with privacy and makes you more comfortable, as well. If a portion of your land is irregular in shape, is shaded by neighbouring trees, or is located adjacent to a wall or walkway, this option is for you. Create a private haven for yourself or a secluded spot for two beneath a tiny pergola.
Install A Pergola Now
The addition of a pergola to your home can allow you to carve out specific spaces for lounging, dining, and socialising. Pergola kits come in a variety of styles and sizes, making it easy to find one that works for your walkway, garden, or porch. Find stunning pergolas that are simple to assemble, durable, and adaptable to your unique needs and preferences.